Celebrity Posters of the Biggest Stars
Shop the best posters, canvas and plexiglass from the biggest stars here!
Do you want to give a personal twist to your living room, bedroom or other space at home? Do you have someone you really look up to, someone who motivates and inspires you? Then a celebrity poster is for you.
We have released a portrait collection with the biggest stars and celebrities. Read on to find out what makes these stars so special!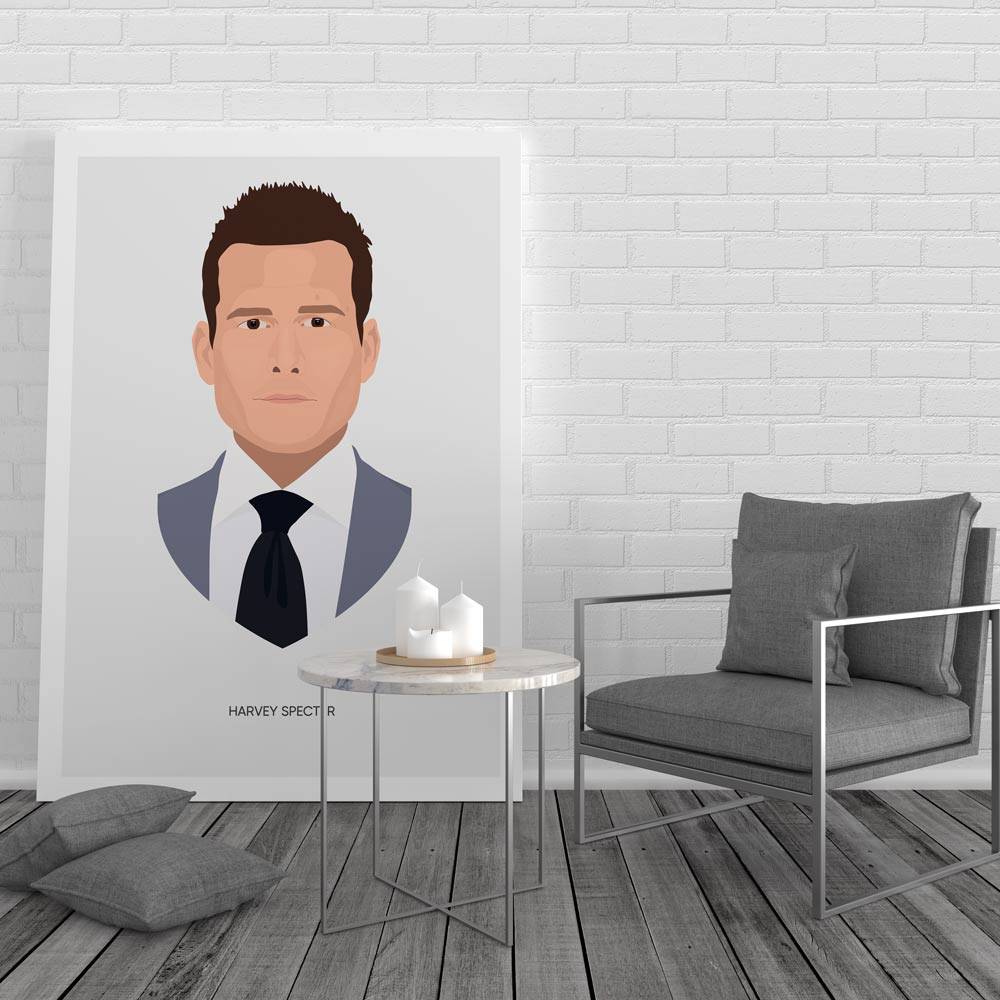 Flat design was used when designing the prints in the portraits collection. This is a big trend in the graphic design industry these days! Simple, two-dimensional elements and bright colors are used. Wall decorations in this style give your room a calm and minimalistic, but also special atmosphere!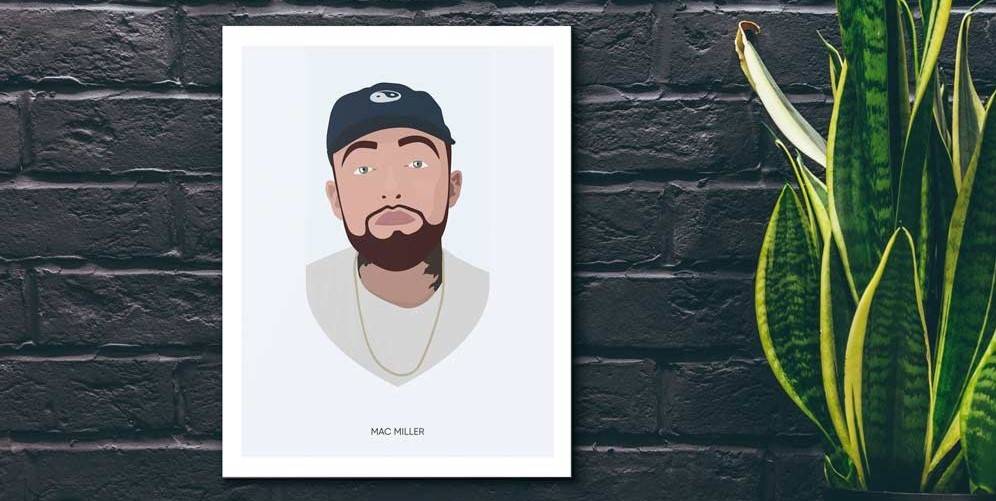 Looking for beautiful posters celebrities? At Walljar you shop the best quality canvas, posters and plexiglass wall decoration.
One of the most famous rappers with a traumatizing childhood, marked by poverty and accusations of abuse. At the age of 14 he started rapping in clubs in Detroit, and with the name Eminem he entered the hip-hop world.
with dr. Dre as his producer and mentor, Eminem released The Slim Shady LP in early 1999. His success was huge and with millions of copies sold, Eminem won two Grammy Awards and four MTV Video Music Awards!
The rapper has even made it so far that he has his own label. Did you know that if you want a contract with Slim Shady records, you have to go into a rap battle against Eminem? Good luck!
Eminem has had to experience many setbacks in his career, but his success is due to his special perseverance, which makes the rapper an inspiration to many. Also such a fan and looking for a celebrity posters? Take a Eminem posters in the house and be reminded that no matter what happens, you should never give up!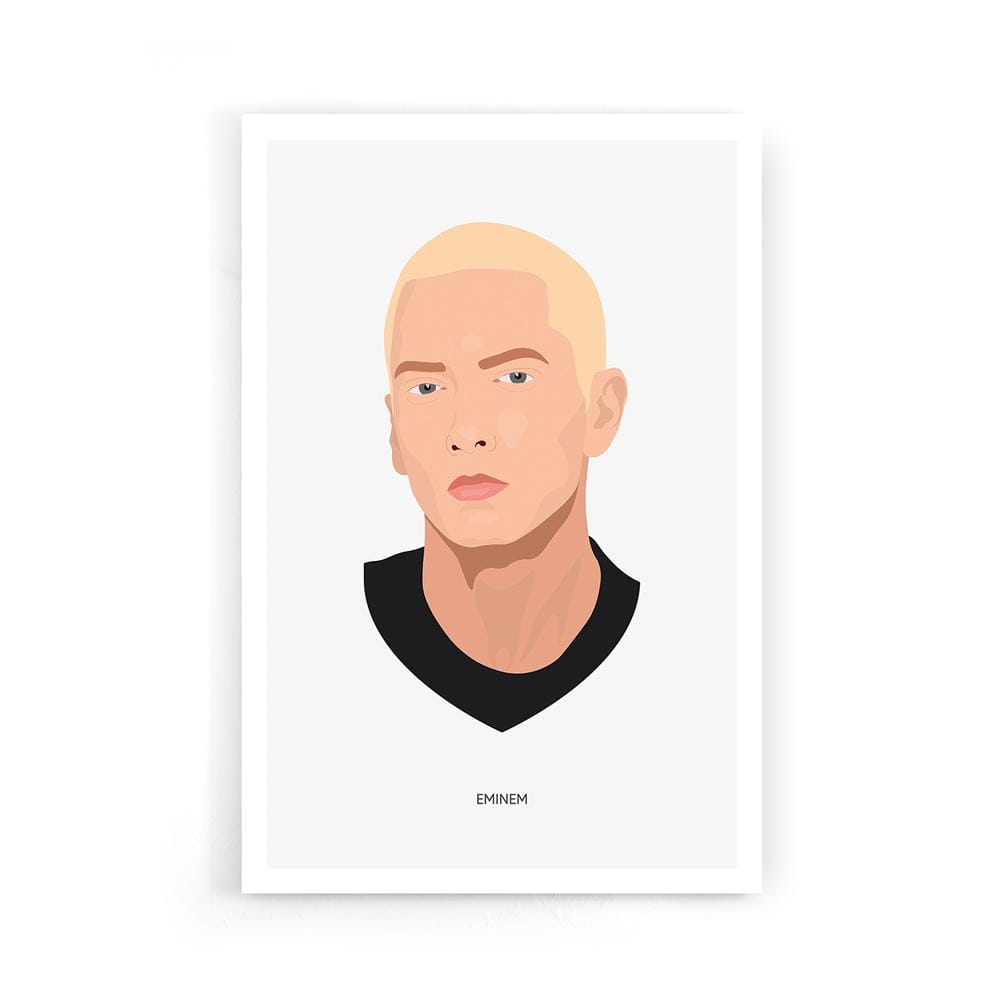 On Friday, September 7, 2018, the news came out that rapper Mac Miller has died of an overdose. For years he battled depression and addiction but still remained passionate about making great music.Mac Miller was a musician who went from being a frat-boy rapper to someone with thoughtful, soulful raps; a testament to his growth as an artist and as a person.
At the age of 26, the rapper released his fifth studio album, Swimming; an album with an in-depth look at his internal struggles and his mental state. He exposed himself but helped millions of people!
Mac Miller was a musician who - like many others - had to struggle with a lot of things. He shared his highs and lows, which made him so special as an artist. If you are looking for a Mac Miller poster, this celebrity painting is perfect for you.
Frank Sinatra was one of the most popular entertainers of the 20th century with a career as an award-winning singer and film actor. Sinatra's voice is instantly recognizable and has power, charisma, nostalgia and tenderness. He is therefore also called The Voice!
Sinatra died of a heart attack in 1998 at the age of 82. His last words were "I'm losing", referring to the fight to stay alive.
Whether Sinatra sings a brave love song, a somber ballad or a Disney standard, his mellow tones still continue to gain new fans today. He was a perfect talent that is still loved to this day. Also such a fan of his great music and looking for paintings of celebrities? Then a
Frank Sinatra poster
what for you!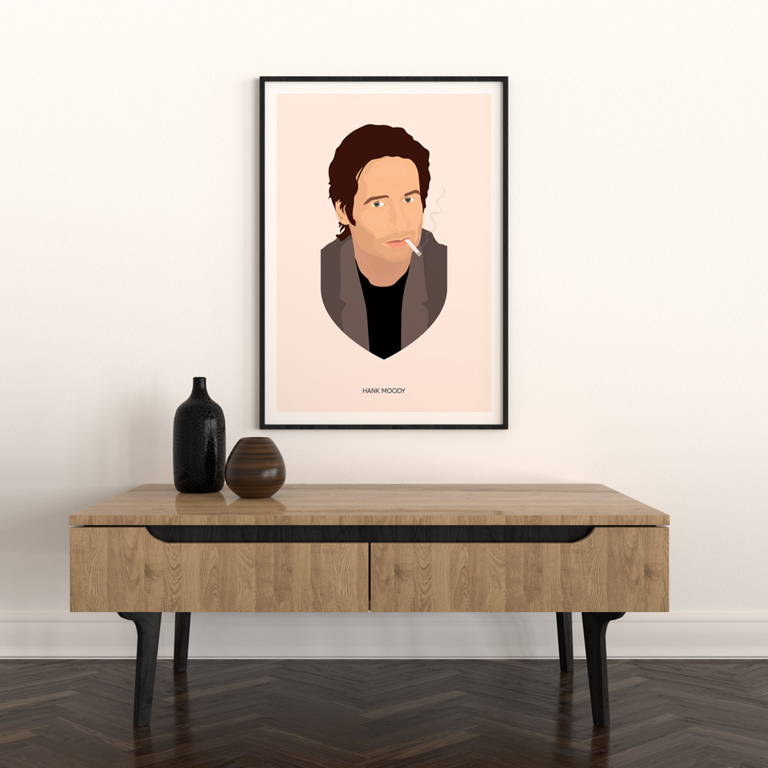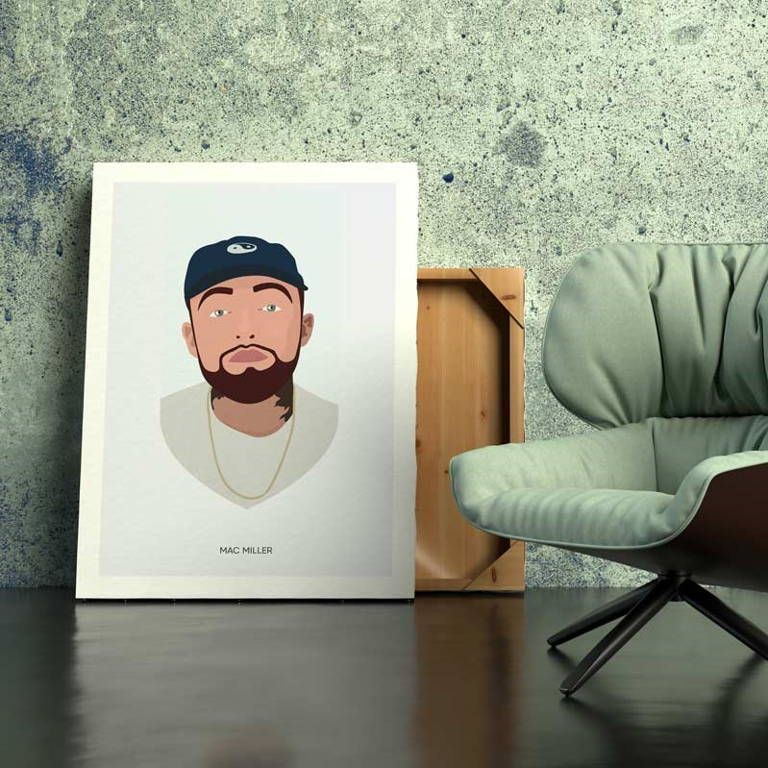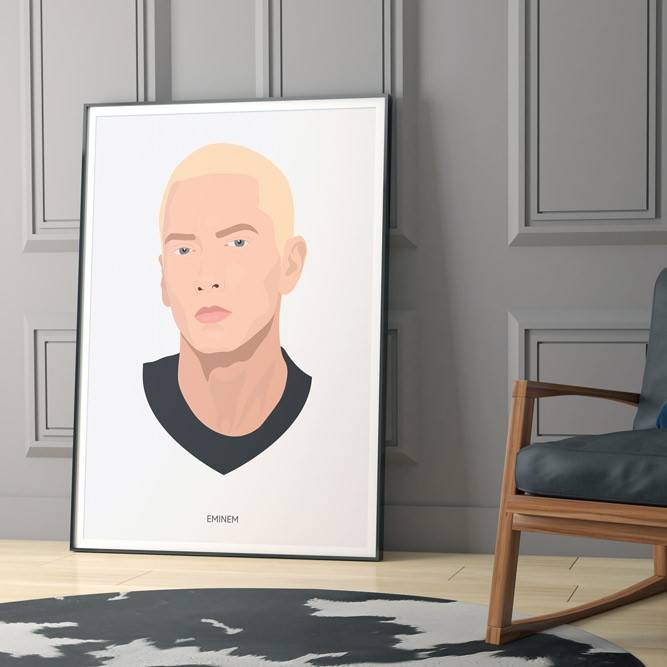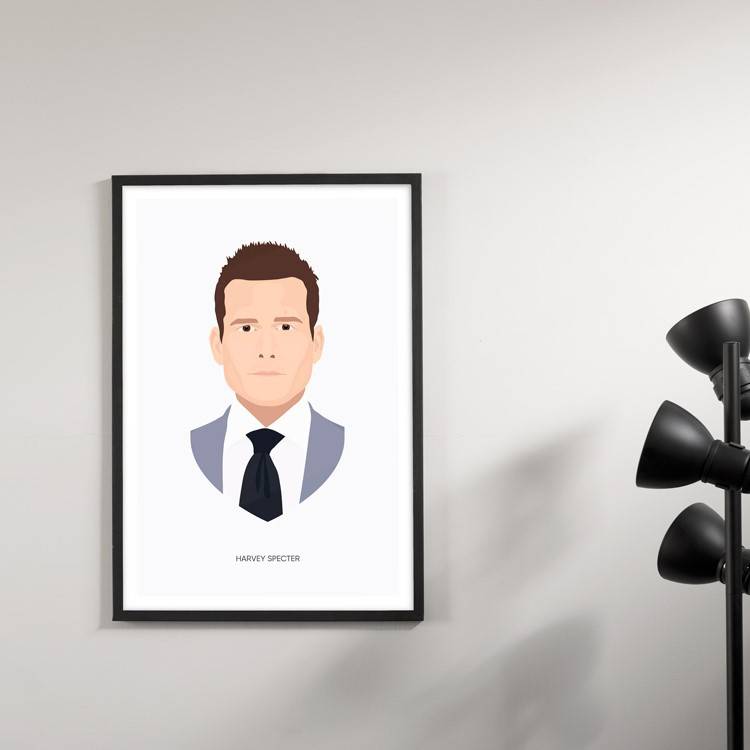 Looking for feminist, inspirational celebrity paintings? Then a Frida Kahlo poster perfect for you. Frida was not only a formidable artist, but she was also involved in politics and a trailblazing feminist.
Born in Mexico in 1907, struggling with polio and later even more handicapped by a horrific accident that impaled a steel pole through her hip and fractured her spine and pelvis. During her recovery, she started painting, which gave her a distraction from the daily pain. Soon after, she became known mainly for her self-portraits. Her art became more famous, even though she herself deteriorated: eventually her leg had to be amputated.
"Feet, what do I want them for when I have wings to fly"
These magical words that Frida Kahlo uttered define her in more ways than one. Faced with trials unimaginable to most people, Frida still lived on her own terms, unrestricted and like a free bird.
Muhammad Ali (1942-2016) was an American former champion boxer and one of the greatest sports figures of the 20th century. An Olympic gold medalist and the first fighter to capture the heavyweight title three times, Ali won 56 times in his 21-year professional career.
Ali's candor on issues of race, religion, and politics made him a controversial figure throughout his career.
His confidence was indescribable. He was and still is an inspiration for hundreds of millions of people to get off the couch, find our courage and our greater purpose and take action to achieve something meaningful. Do you also see Ali as an inspiration? Then a
muhammad ali poster
the perfect celebrity painting for you.
Looking for beautiful posters celebrities? At Walljar you shop the best quality canvas, posters and plexiglass wall decoration.
Despite achieving success as both a rapper and a film actor, Tupac Shakur's fame among mainstream audiences owed more to his "outlaw image," which stemmed in large part from his many notable battles with the law.
In 1995 he was sentenced to prison. Nevertheless, he kept busy in the music world with a hit album "Me Against the World". In an interview he gave from behind bars, Shakur denied the "Thug Life" which had previously been his favorite catchphrase:
"I'm going to show people my true intentions and my true heart. I'm going to show them the man my mother raised. I'm going to make them all proud."
Tragically, Shakur died not long after his release from prison on September 13, 1996, of complications from gunshot wounds sustained during a drive-by shooting in Las Vegas.
Tupac had a poetic drive in his raps. He had a certain kind of rawness that made people want to listen to what he had to say. There's a reason you can fly to the other side of the world and always run into someone who's heard of Tupac. Looking for a celebrity painting? Then this one Tupac posters really something for you!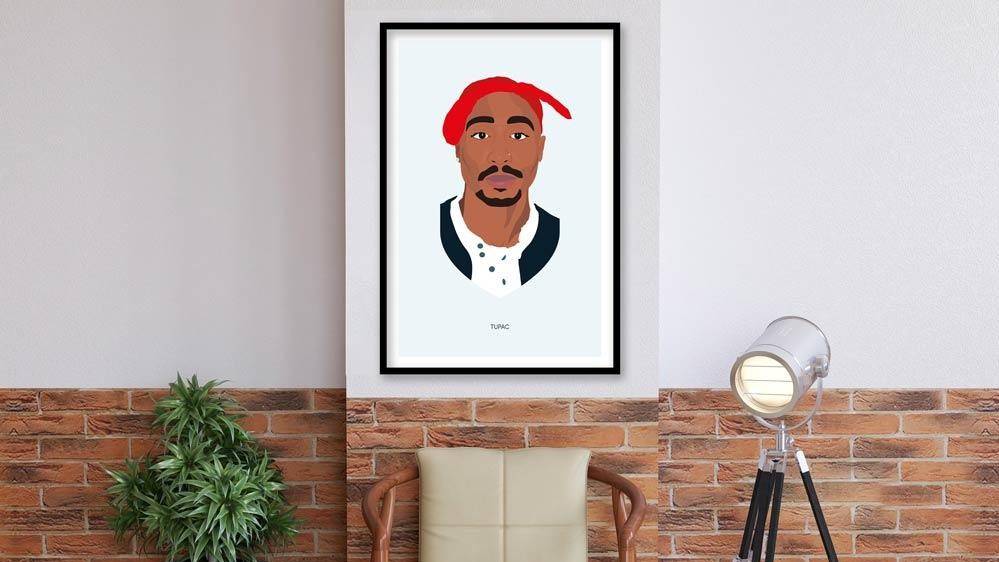 Abel Tesfaye, better known as The Weeknd, burst into the music world with his distinctive style. As number 1 on various charts, he won several awards and is therefore a great source of inspiration for many aspiring artists. Best of all, he's just at the beginning of his career!
Before reaching the top of the charts with hits like "Starboy," "Can't Feel My Face," and "Blinding Lights," The Weeknd had to work its way up from the bottom.
"It was hard growing up where I came from. I really thought movie would be my way out, but I couldn't really make a movie to feel better, you know? Music was a very direct therapy; it was immediate and people liked it. It certainly saved my life. "
Also such a fan of the singer's creative complexity and looking for a poster of The Weeknd? Then this wall decoration is for you!
Choose from different materials
At Walljar you can choose from different options for materials. For example, we offer canvas, posters, plexiglass and framed posters.
If you want a glossy effect, acrylic glass is the material for you. The desired print is printed on the back of the plexiglass and has a glossy smooth finish.
If you want a less shiny look, canvas is the perfect material. It is durable, affordable and the full color printing makes the prints on canvas stand out beautifully.
With posters you create a matte appearance and hang tightly on the wall when you have them framed.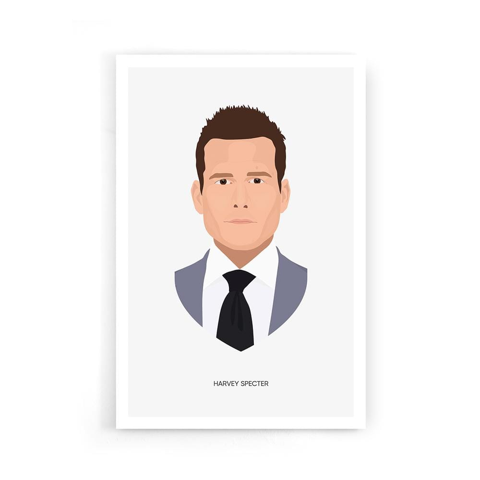 So, which poster will it be?
Celebrity Posters: Who's Your Favorite? You can view the entire celebrity collection here. Still want to dive into our other collections? View all our collections here!