A unique collection for fans of football posters
Vintage football posters of unique moments from the best matches!
Are you a real football fan and are you a big fan of posters from football history? Walljar offers a wide range of unique vintage football posters that will look great on your wall!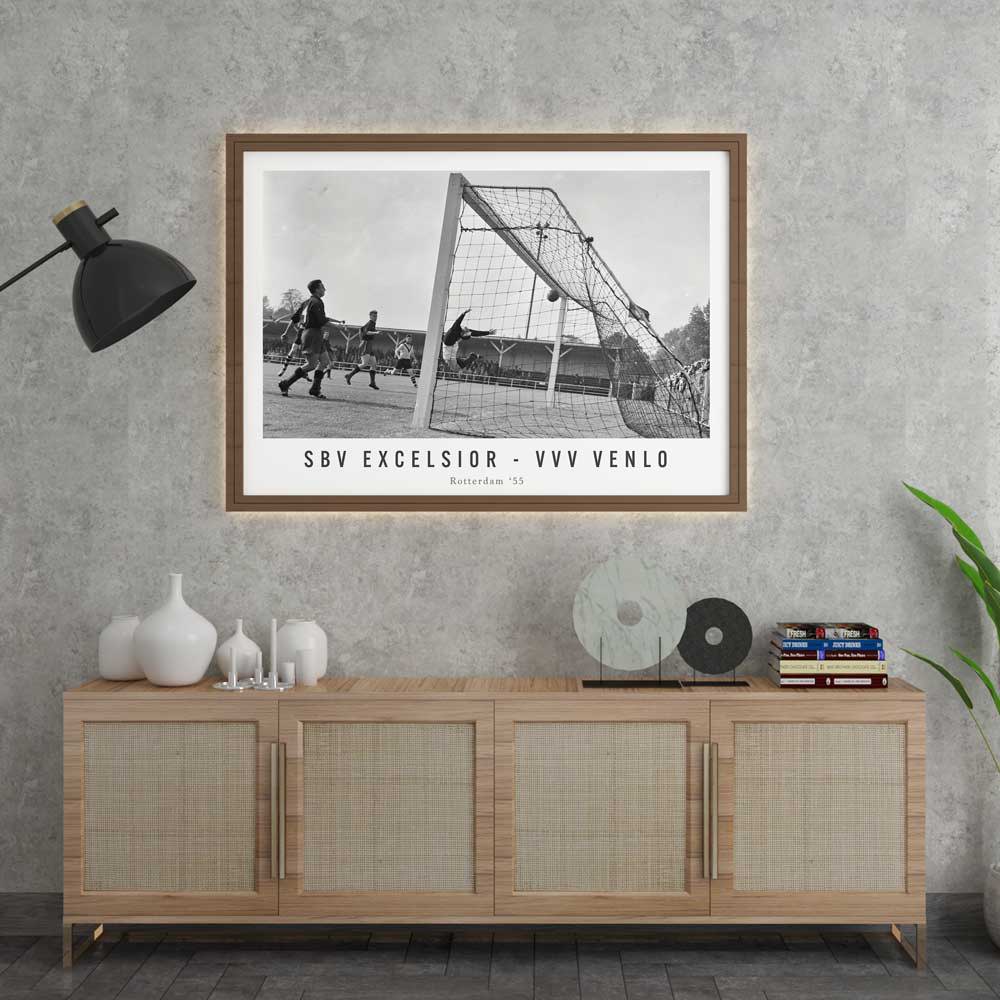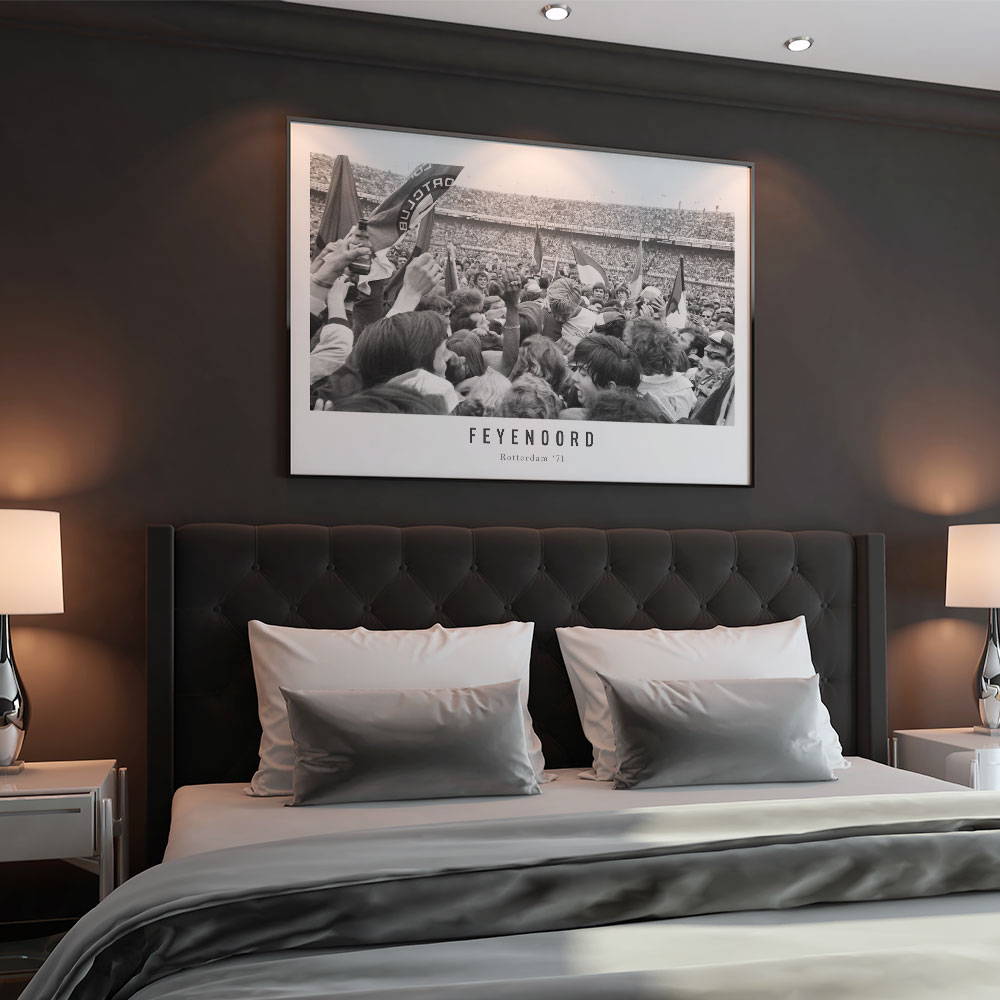 Our collection: vintage football posters
The vintage football poster collection consists of black and white photos of historical matches of your club! Think of that fantastic championship game that you will never forget. Or that all-important promotional match in which your club reached the premier league! The football posters and prints are real 'eye-catchers' that will look very cool in your interior with a characteristic look.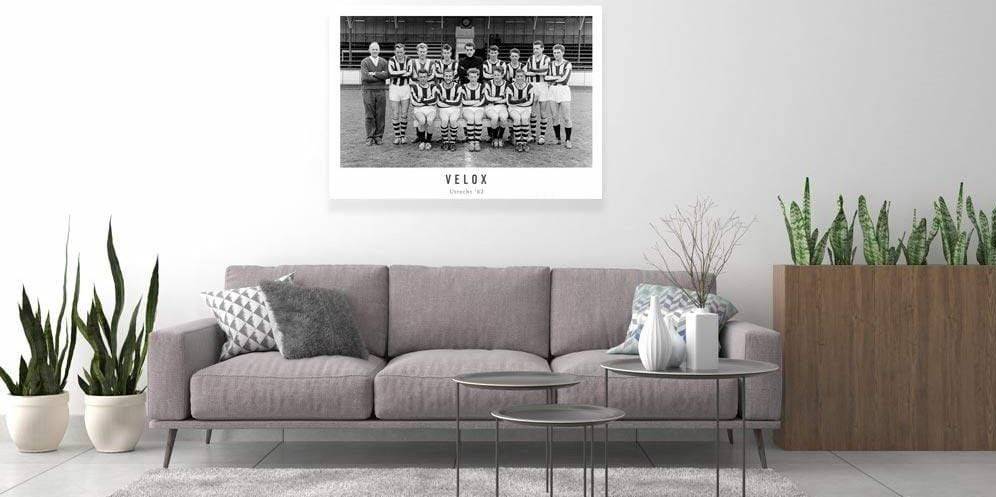 The vintage trend
Vintage is a hugely popular trend that has been returning for a while. We see the trend not only in clothing or furniture, but also in wall decoration and other accessories. The vintage football poster collection therefore fits in well with this trend and is of course completely suitable for the football fans among us!
Which clubs can be found in the vintage football poster collection?
In the vintage football poster collection you will find the traditional top 3 of the Netherlands; AFC Ajax, Feyenoord and PSV. But you can also find real sub-toppers such as AZ, FC Utrecht, Twente, Groningen, Heerenveen and Vitesse in this collection.
Of course there are also the belligerent clubs like; ADO Den Haag, NAC Breda, Willem II, NEC, PEC Zwolle, Sparta Rotterdam, de Graafschap and many other clubs that compete with each other every year.
Of course we have also involved our beautiful Dutch national team in this selection with its best matches and most beautiful moments. In addition to the above clubs, we also have the stadium of your favorite club on our wall decoration. You really have to have this at home!
Shop vintage football posters
Looking for beautiful vintage football posters? At Walljar you shop the best quality canvas, posters and plexiglass wall decoration.
Where to hang the football posters?
Vintage football posters have character and can be a nice addition to your living room, bedroom, office room, man cave or maybe even work-out room. You can show everyone which club you support in heart and soul and which moment in the match history makes you happy.
You can choose to have a large poster of your club's stadiumto hang, for example above the sofa. But to create a stronger image, you can also hang two or three next to each other. For example, with the moments of that fantastic championship match that your club won in the last minute, where you went completely out of your plate.
A nice example of this is to hang three types of football prints next to each other.
• A photo of the goal that was scored in this match• A photo of the cheering supporters with the players • A photo with the coveted prize that was won
In addition to hanging up, you can also place the vintage football posters on a cupboard or on the floor for a playful effect. Became curious? Then check the entire collection right away!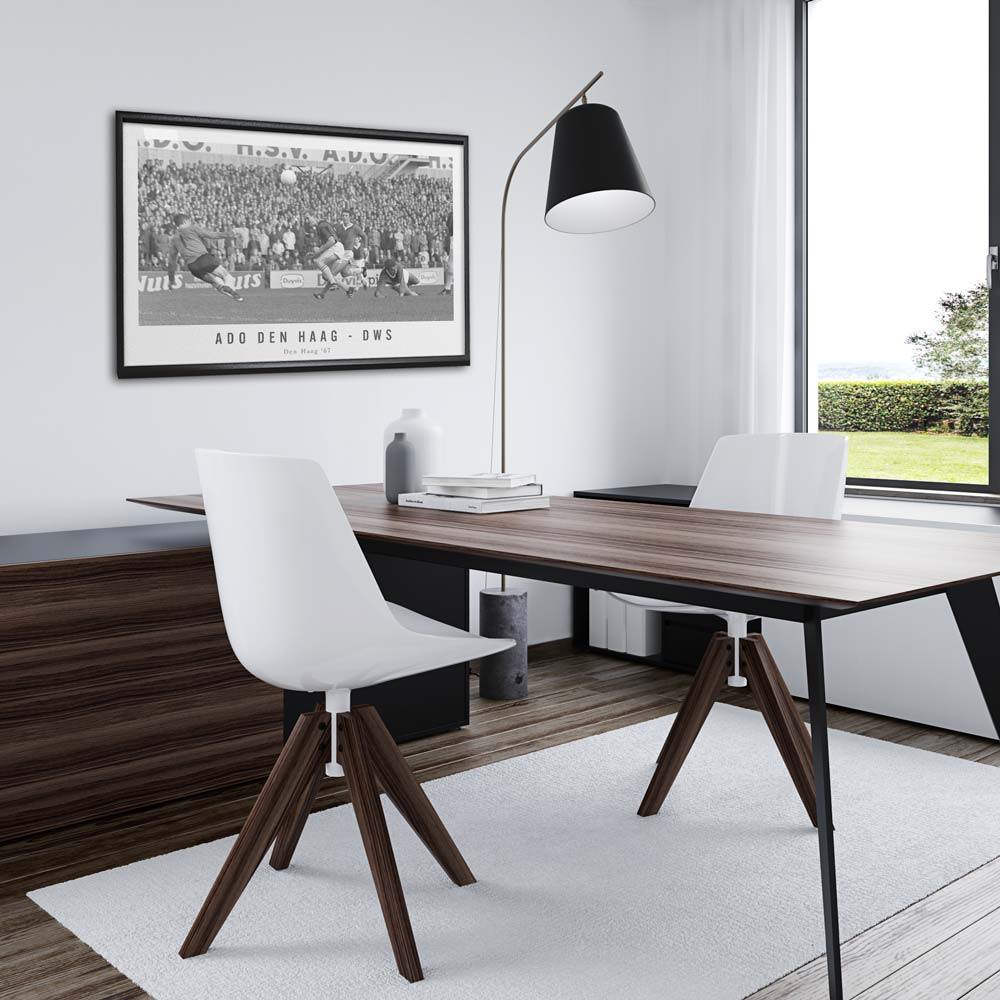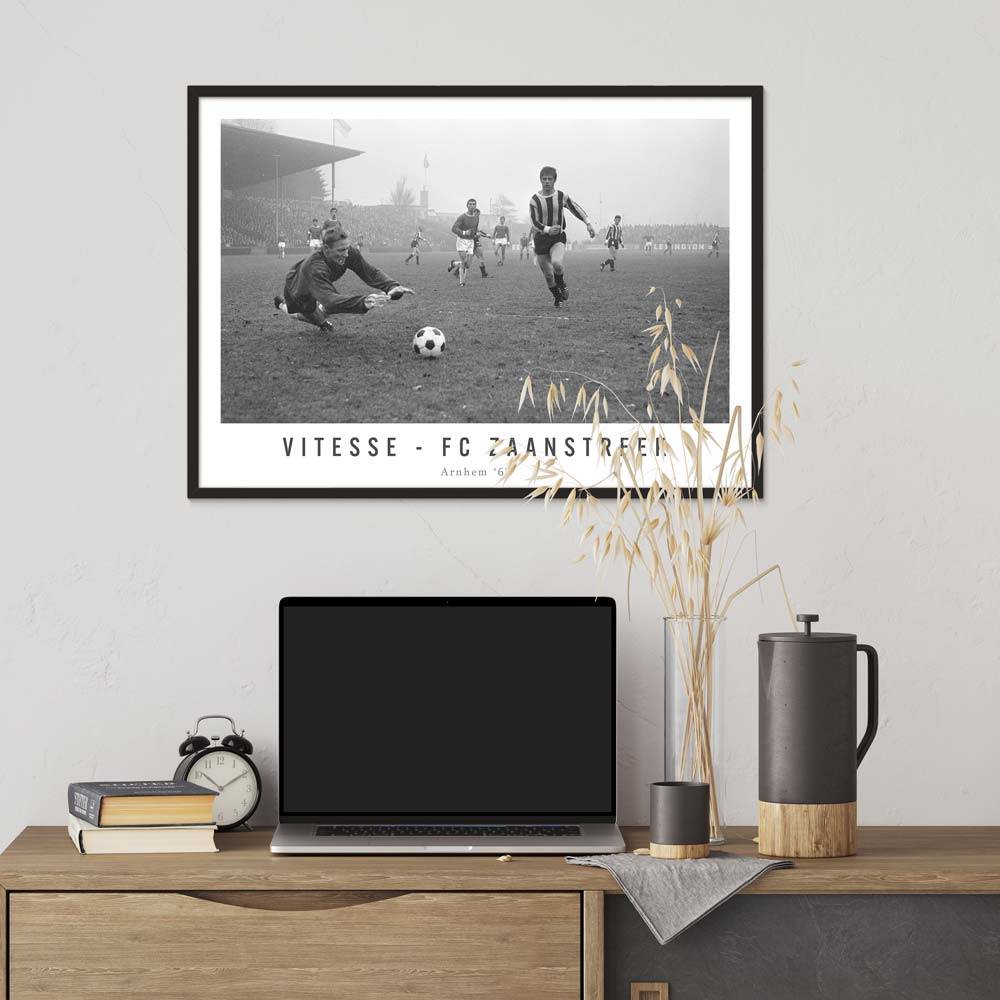 Feyenoord football posters
Feyenoord is a club from the traditional top 3 in the Netherlands. Feyenoord has supplied very great footballers such as Robin van Persie, Dirk Kuyt, Giovanni van Bronckhorst to the football world. The club is known for its fighting spirit and that is reflected in every match. The Feyenoord players always give their all and fight for every victory.
This fighting spirit is really in Feyenoord's DNA. In addition to the footballers, there is also always the 12th man (the supporters) for Feyenoord. If it ever doesn't work out for the players, the 12th man is always ready to shout their club to victory.
AZ '67 - Feyenoord' 72On this vintage football poster you can see the match between AZ against Feyenoord. The final score becomes 0-2. Van Hanegem (left) shoots past the "wall". In Alkmaar, November 12, 1972.
View the Rotterdam football posters here !

De Kuip is the second largest stadium in the Netherlands. It is the home of the football club Feyenoord. The stadium has space for more than 2 supporters. The stadium is known for shaking slightly when a goal is scored. The supporters who go crazy and jump, cause it to shake slightly.
It is quite an experience in itself to experience that. In addition, De Kuip is the stadium where the final of the Dutch KNVB cup takes place. So many important matches have already been played here and the stadium will always be special for every club and supporter who has ever been there.
De Kuip '83
On this vintage football poster you can see the Dutch football supporters who are standing in line for the presale of the match Netherlands against Malta. The supporters stand in front of the Feyenoord Stadium in Rotterdam. In Rotterdam, December 1, 1983.
See De Kuip posters
here
!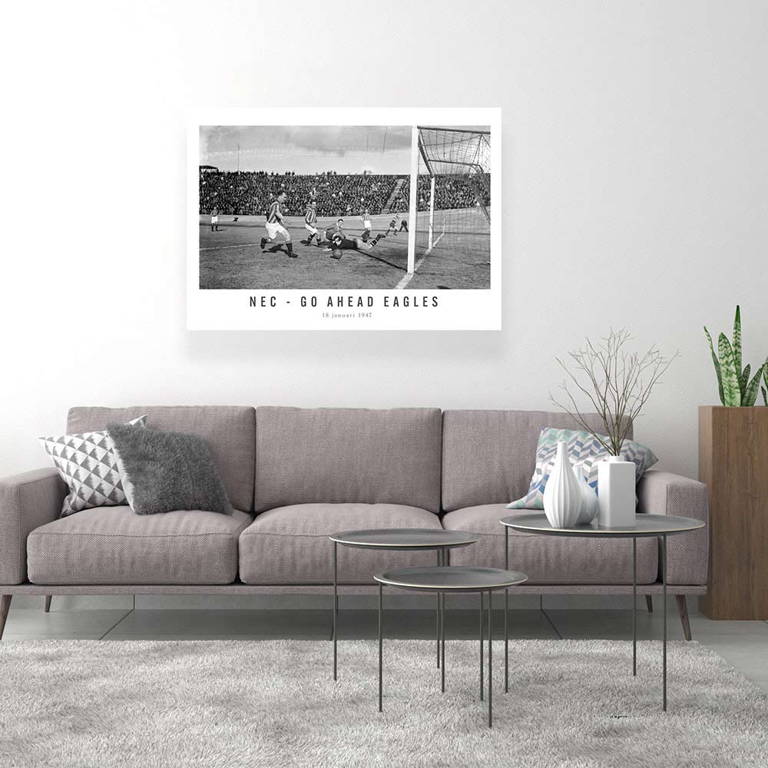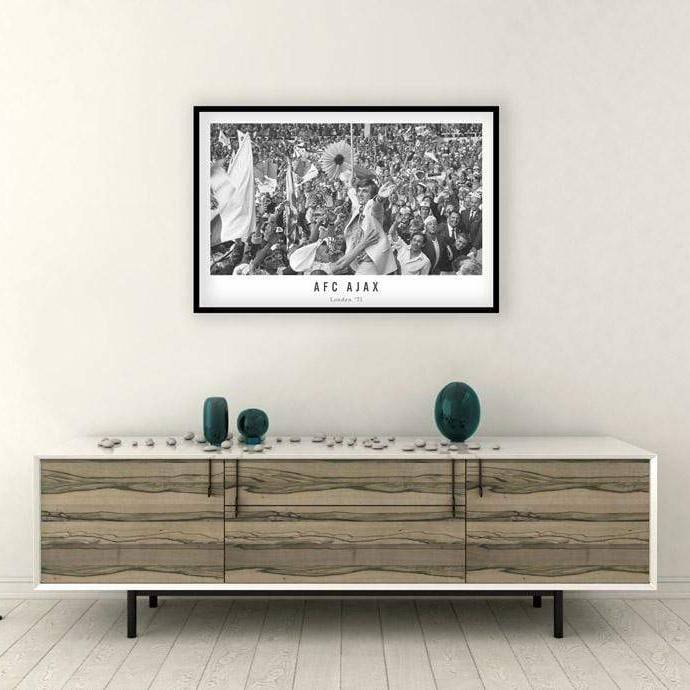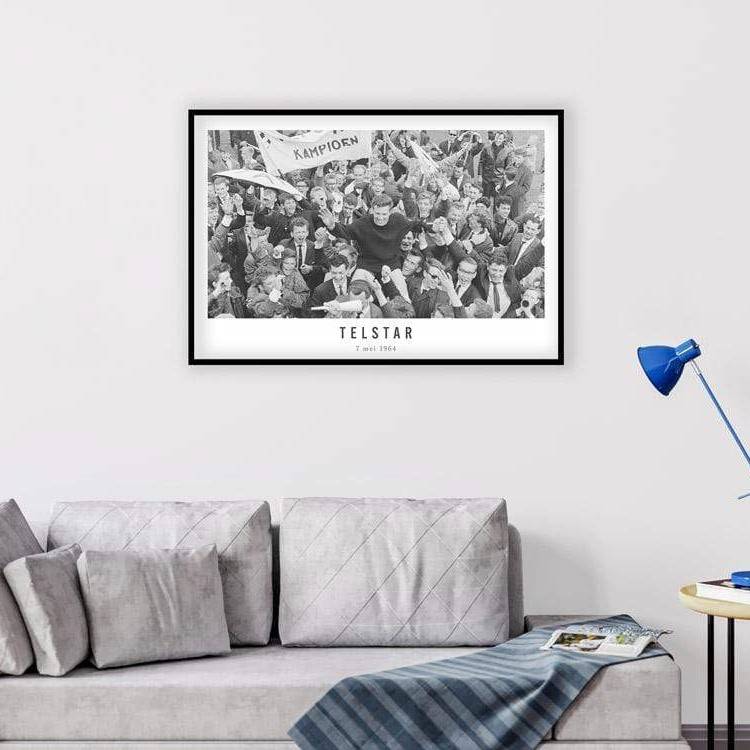 FC Utrecht football posters
FC Utrecht is a club that almost always ends in the sub top of the premier league. They always play for the play-offs and have achieved this 5 times in club history. Even though this is not achieved annually, Utrecht is always a difficult club to beat. The team can get stuck into an opponent like no other.
Because one thing is certain, and that is that there is certainly nothing wrong with the fighting spirit of the club. Especially when AFC Ajax comes to visit the Domstedelingen. Then the players are on the cutting edge. This is the race of the year. Whenever there is a win, it is one big party in the city.
See our Utrecht football posters here !

Galgenwaard stadium poster
Stadium de Galgenwaard is FC Utrecht's home front. There is always a fantastic atmosphere here when FC Utrecht has to play. The thousands of supporters chanting the name Utrecht echoes throughout the stadium. It is a true party to be with and extremely pleasant.
Shop vintage football posters
Looking for beautiful vintage football posters? At Walljar you shop the best quality canvas, posters and plexiglass wall decoration.